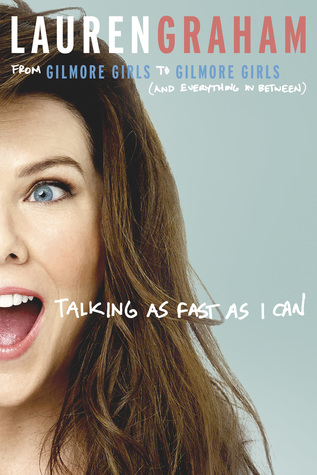 Rating:
Publisher: Ballatine Books
Pages: 224
Summary:
In this collection of personal essays, the beloved star of Gilmore Girls and Parenthood reveals stories about life, love, and working as a woman in Hollywood—along with behind-the-scenes dispatches from the set of the new Gilmore Girls, where she plays the fast-talking Lorelai Gilmore once again.

In Talking as Fast as I Can, Lauren Graham hits pause for a moment and looks back on her life, sharing laugh-out-loud stories about growing up, starting out as an actress, and, years later, sitting in her trailer on the Parenthood set and asking herself, "Did you, um, make it?" She opens up about the challenges of being single in Hollywood ("Strangers were worried about me; that's how long I was single!"), the time she was asked to audition her butt for a role, and her experience being a judge on Project Runway ("It's like I had a fashion-induced blackout").

In "What It Was Like, Part One," Graham sits down for an epic Gilmore Girls marathon and reflects on being cast as the fast-talking Lorelai Gilmore. The essay "What It Was Like, Part Two" reveals how it felt to pick up the role again nine years later, and what doing so has meant to her.

Some more things you will learn about Lauren: She once tried to go vegan just to bond with Ellen DeGeneres, she's aware that meeting guys at awards shows has its pitfalls ("If you're meeting someone for the first time after three hours of hair, makeup, and styling, you've already set the bar too high"), and she's a card-carrying REI shopper ("My bungee cords now earn points!").

Including photos and excerpts from the diary Graham kept during the filming of the recent Gilmore Girls: A Year in the Life, this book is like a cozy night in, catching up with your best friend, laughing and swapping stories, and—of course—talking as fast as you can.
So, I didn't develop a love for all things Gilmore Girls until news broke earlier this year that the show was coming back for a revival and that all the previous seasons would be on Netflix. I have always wanted to watch Gilmore Girls and, caught the odd episode whilst I was at uni, but I am the kind of person that has to watch something from the start and invest properly.
So when all seven seasons appeared on Netflix I dove in and fell in love. I fell in love with Lorelai, Rory and Luke. I fell in love with Stars Hollow and all its residents. I got passionate in my hatred for Dean(occasionally), Jess (although I did land up loving him) and Logan (who I NEVER liked and my What's App conversation with a dear friend prove that...) and discovered that Lorelai Gilmore and I share the same love for coffee! This is why this has become my go-to GIF for sleepy mornings: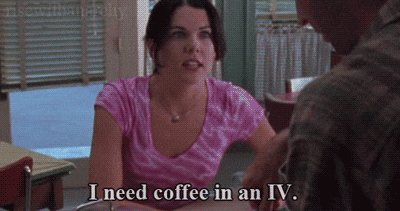 And this my go-to saying when people ask why I live off coffee: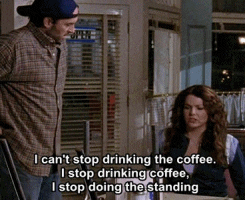 But anyway, less of my love of Gilmore Girls and more on my love of Lauren's book...
Because I really did love this book, I asked for it for Christmas from my sister and I have already finished. This book is amazing, reading it you feel like Lauren is talking directly to you and you're having a chat about her life over a cup of coffee and cake. Lauren is so relatable and she made me laugh out loud on many an occasion while I read the book. If I ever wrote a book about my life (which I won't be any time soon) I would aspire to write it like this!
We get to see glimpses of her youth, her life before Gilmore Girls when she was trying to make it as an actress, during Gilmore Girls, post-Gilmore Girls and of course, the revival. There wasn't a set timeline to this book, we jumped all over her life in places and I loved that. Normally, I would hate something like that but with this, it just worked! It works because Lauren is good at making it sound like she is writing a personal letter to you. She isn't writing a book for masses, she's writing to every one of us.
There were a few quotes in this book I have to talk about because they really resonated with me. The first is when she talks about meeting her partner, Peter:
"Someday soon a train is coming. In fact, it may already be on the way. You just don't know it yet."
I really loved that and it perfectly sums up meeting someone. You never know when it'll happen and the way Lauren described it was perfect. Then the second one is this:
"In order to get there, you may have to break down the walls of whatever it is that's holding you back. Ignore the doubt —it's not your friend— and just keep going, keep going, keep going"
I loved that! A lot of the time I am my own worse enemy and try to stop myself doing what I really want to do. It's the reason I landed up staying in a job I hated instead of following my dreams for too long until one day I said, no, I am not happy so I am going to make moves to make a change and do what I want to. It's the best thing I have ever done and I am so happy I have done that. I think people will read that and do the same thing which is just amazing!
I think my favourite part of the book was getting a glimpse into the filming of the revival and that part of the book really choked me up. I don't know why but I found it really emotional, especially when Lauren mentioned Ed.
All in all, this is an awesome book and if you love Gilmore Girls and Lauren Graham you definitely need to read this book because it really is like sitting down with an old friend and getting to know them better.