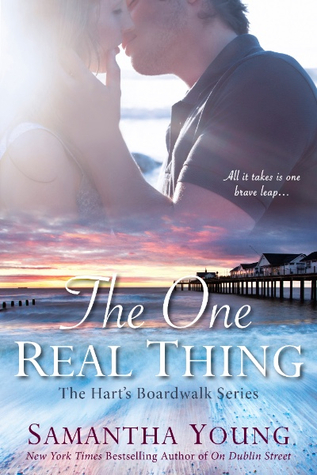 Rating:
Publisher: Berkley
Pages: 382
Summary:
Welcome to Hartwell, a quiet seaside escape where uncovering old secrets could lead one woman to discover the meaning of a love that lasts…
While Doctor Jessica Huntington engages with the inmates at the women's correctional facility where she works, she's always careful to avoid emotional attachments in her personal life. Loss and betrayal taught her that lesson long ago. But when she comes across a set of old love letters in the prison's library and visits the picturesque town of Hartwell to deliver them to their intended recipient, she finds herself unable to resist the town's charm—and her attraction to the sexy owner of a local bar proves equally hard to deny.
Since his divorce from his unfaithful ex-wife, Cooper Lawson has focused on what really matters: his family and the boardwalk pub they've owned for generations. But the first time Jessica steps into his bar, Cooper is beyond tempted to risk his heart on her. Yet as their attraction grows hotter and Jessica remains stubbornly closed off, he begins to realize it will take more than just passion to convince her there's only one real thing in life worth fighting for….
I have loved Samantha Young's books for a long time and the On Dublin Street series is one of my favourite series. Samantha is one of my go-to authors whose books I always pre-order so when I heard news that Samantha had a new series of books coming out I knew I wanted to read it.
When the book opens we meet Jess, a young doctor working in a women's prison who keeps everyone at arm's length and is told by many people that something is missing in her life. Whilst at work she stumbles across the lost letters of a deceased former inmate and is hit by an overwhelming need to find the man they are addressed to which leads her to a small seaside town called Hartwell.
When Jessica arrives she immediately falls in love with it and so did I. I could just see it all and loved it too. Maybe it's because I grew up in a small town by the sea so could relate but I loved the town and the people living there!
Soon after arriving Jess runs (literally) into Cooper, the local good guy who owns a bar on the Broadwalk in the town, he offers her refuge from the rain and so begins their journey in this book. Can I just say, Cooper is all kinds of awesome?! I already have a number of book boyfriends thanks to Samantha and I've just added another. Cooper is perfection! He is so sweet and loving as well as sexy! I had a perfect image of him in my head and fell head over heels for him. Just like Jess! He comes across as so loving and caring.
He cares for his town and the people in it as well as Jess, seeing their relationship develop and grow was amazing to read. You can tell from the bat how much she means to him but Jess, because of her past, keeps him at arm's length. She starts a relationship but keeps locking down on him when the past comes up. It broke my heart to read and seeing Cooper's reactions did too. He just wanted to help and felt so powerless to do so. Eventually, things come to a head and when the truth did come out, thanks, in part, to the words of the man who the letters Jess found were addressed to, I wanted to hug the both of them.
That is one thing Samantha has always excelled, bringing a sadness to her characters and with The One Real Thing she does that in spades. She really makes you feel for Jess and what she has been through which we don't fully find out until later. We know from the start Jess is hiding something huge and my mind was whirring with guesses as to what it was.
Not only does Samantha create an amazing central pair in this book she also creates a wealth of supporting characters you can't help but love! Bailey and Emery hold a special place in my heart, they were so much fun to read and get to know. I can't wait to see more of them in the coming books and I hope we see a lot more of Cooper and Jess too.
Samantha has an amazing knack of creating a loveable community in this book. You are 110% behind everyone you meet in this book and want them to defeat the property magnate who is trying to buy up the town. I loved reading them all band together towards the end to help Cooper and defeat the evil in the town whose name I loved!
This is a great opener to a new series from one of my favourite authors and I can't wait to see where Samantha takes this story! If On Dublin Street was anything to go by we are in for an amazing ride and I already can't wait to get my hands on the next book.