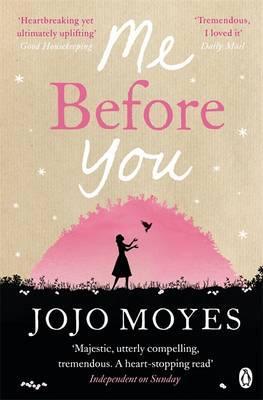 Rating:
Pages: 481
Summary:
Lou Clark knows lots of things. She knows how many footsteps there are between the bus stop and home. She knows she likes working in The Buttered Bun tea shop and she knows she might not love her boyfriend Patrick.

What Lou doesn't know is she's about to lose her job or that knowing what's coming is what keeps her sane.

Will Traynor knows his motorcycle accident took away his desire to live. He knows everything feels very small and rather joyless now and he knows exactly how he's going to put a stop to that.

What Will doesn't know is that Lou is about to burst into his world in a riot of colour. And neither of them knows they're going to change the other for all time.
I think I have had this book on my Kindle for years, I almost started it about a year and a half ago but then I changed my mind. It's been sat there for way too long and, since the film is coming out and I want to see it (I have to read the books beforehand), I finally decided to read it and oh boy did this book take me on a rollercoaster of emotions.
Every once in a while, a book comes along that sucks you in and Me Before You did this for me and I found myself thinking, despite the fact that it ripped my heart to pieces, why in the hell did I take so long to read this?!
When the book opens, we meet Will, a young, well travelled, active and successful City worker just before his life changes forever and he goes from a life loving young man to a young man now relying on others to get through life. He wants to end his life on his own terms and gives his parents six months and then enters Louisa Clark.
I loved Lou from the outset, she reminded me a lot of myself and she was a fun character to read. She has lived in the same bubble for years, going from work, to home, to her boyfriend's, living the same life with barely any variation. She loses the job she's had for years and desperate to find something new, she is employed on a fixed contract to help out Will.
I loved seeing the affect Lou had on Will and seeing him go from being this closed off guy, barely tolerable of his family and primary carer, Nathan, to being a completely different person, someone who was open and caring. I think, knowing what we know of his life prior to the accident, Lou had a fundamental effect on helping him find a form of the man he was.
The way they are with each other is like no other relationship in this book, they know exactly how to push each other's buttons and get the best out of each other and they do, not only does Lou push Will with her grand plan to get him out and doing things again but he pushes her too. He pushes her to realise that there is more to life than the small town she lives and works in.
I had a feeling going into this book what would happen (as much as I didn't want it to) but I could not have prepared for what did happen. This book landed up tearing me to pieces and I was a snot sobbing state by the end. Jojo did a great job of making us feel everything Will and Lou felt, I really connected with the pair of them and wanted them both to be happy.
The development of Lou in this book is amazing, you see her change in front of you and I loved that. She embraces her new life and does everything she can to help Will, planning trips, even one aboard and you can just see how much Will means to her. She wants to help him in the best way she can and I was rooting for her the whole way through.
One of my favourite things about this book was getting to see the point of view of other characters connected to Will and Lou and helps the reader better understand them. I especially felt more for Lou's sister when I read her chapter, I started the book hating her but when her chapter rocked around I understood her a bit better but I still found it hard to connect to her.
I didn't realise until a few weeks ago that there's a sequel to this and I will be reading it sooner rather than later.