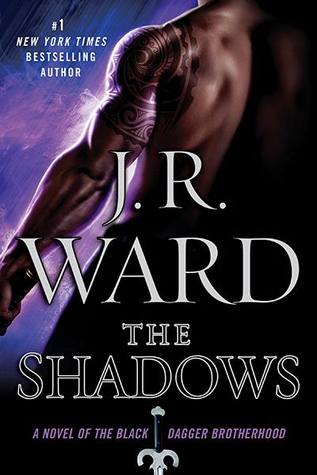 Rating:
Publisher: NAL
Pages: 592
Summary:

Two brothers bound by more than blood fight to change a brutal destiny in the heart-wrenching new novel of the Black Dagger Brotherhood by #1 New York Times bestselling author J. R. Ward.

Trez "Latimer" doesn't really exist. And not just because the identity was created so that a Shadow could function in the underbelly of the human world. Sold by his parents to the Queen of the S'Hsibe as a child, Trez escaped the Territory and has been a pimp and an enforcer in Caldwell, NY for years- all the while on the run from a destiny of sexual servitude. He's never had anyone he could totally rely on... except for his brother, iAm.

iAm's sole goal has always been to keep his brother from self-destructing- and he knows he's failed. It's not until the Chosen Serena enters Trez's life that the male begins to turn things around... but by then it's too late. The pledge to mate the Queen's daughter comes due and there is nowhere to run, nowhere to hide, and no negotiating.

Trapped between his heart and a fate he never volunteered for, Trez must decide whether to endanger himself and others- or forever leave behind the female he's in love with. But then an unimaginable tragedy strikes and changes everything. Staring out over an emotional abyss, Trez must find a reason to go on or risk losing himself and his soul forever. And iAm, in the name of brotherly love, is faced with making the ultimate sacrifice...
Where do I start...
Normally when I write a review that starts like this I loved the book I've been reading to the moon and back but The Shadows? GAH! I used to love the BDB books, I devoured all the ones that had been published thus far years ago in a matter of weeks, but this one (and the last few ones) I have had to force myself to read.
Normally, when I have to force myself to read a book I put it down but I can't let go of my Brothers. I kept reading and kept going because I love the original Brothers, I love them to pieces and when they're the centre of this book? I LOVED IT! And that's why I kept going. I don't want to miss a minute of their lives and I want to see more of them, I think that's why I loved the first Legacy book so much because it had them in it like they were in the old BDB books, all the time, poking fun at each other and loving each other the way they do.
The BDB series has so many side stories these days that I just get bored with them. I skipped over large chunks in this book with Assail because I don't see the benefit he is bringing to the table. It just bores me.
It's not all terrible, though, I found the Shadows story interesting and Selena and Trez? I loved that storyline and my heart broke for them. The second half of this book was much more enjoyable than the first for me, I didn't need to drag myself through it and I genuinely wanted Trez to get his happy ending because he deserves to be happy and live his life how he wants to, not how his destiny has decided he should.
I also loved seeing how the Brothers took in Trez and iAm as one of their own, they were prepared to go to war with the Shadows species to keep Trez safe and that just shows you why I love them so much, they're hard and fierce fighters but they are endlessly loyal to those they love and those who are loyal to them.
The ending of this book was hard, seeing Trez battle through the hand he and Selena had been dealt was so painful and I wanted to save them both. I also got to see more of Paradise in this book (a character we meet in the first Legacy book which I read before I read this) and I loved her attitude and her determination to be the woman she wanted to be, not the one society and by extension, her father wanted her to be. There's a scene near the end of this book where her father allows her to join the Brotherhood's training programme and I wanted to fist-bump her for getting what she wanted.
I guess, despite my moans of the way this series is going and the fact this book was nearly a DNF for me, I will keep going for one reason and one reason alone: The Brothers. They are what makes me want to keep going with this series.