I thought after almost three years of book blogging I would try and put together a Top 10 Books of 2015 post. It wasn't easy, but after much umming and ahhing, I've managed it by looking through my books of 2015 on Goodreads.
If you click the book covers, they will take you to my original reviews. Once you've had a look, I'd love to know some of your favourite books of the year or if one of your favourites is in here.
Before I start, I just wanted to say that I hope you enjoy the holidays :)
So here goes:
Top Ten Clues You're Clueless by Liz Czukas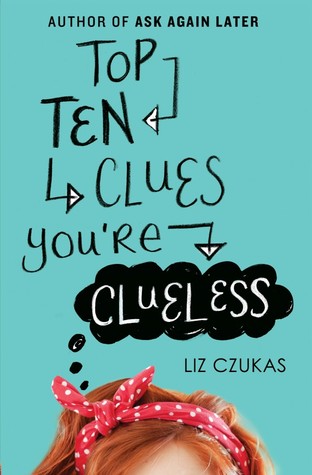 Summary:
Top Five Things That Are Ruining Chloe's Day
5) Working the 6:30 a.m. shift at the GoodFoods Market
4) Crashing a cart into a customer's car right in front of her snarky coworker Sammi
3) Trying to rock the "drowned rat" look after being caught in a snowstorm
2) Making zero progress with her crush, Tyson (see #3)
1) Being accussed–along with her fellow teenage employees–of stealing upwards of $10,000
Chole would rather be anywhere than locked up in work jail (aka the break room) with five of her coworkers. . . even if one of them is Tyson. But if they can band together to clear their names, what looks like a total disaster might just make Chloe's list of Top Ten Best Moments.
This book put two of my favourite things together reading and The Breakfast Club. It was so well written and fun to read and I really related to the job they do as a former checkout girl.
Hopeless by Colleen Hoover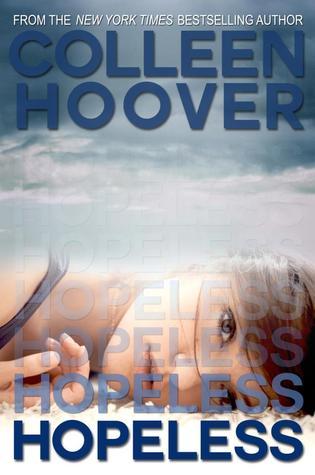 Summary:
Sometimes discovering the truth can leave you more hopeless than believing the lies...
That's what seventeen-year-old Sky realizes after see meets Dean Holder. A guy witha reputation that rivals her own and an uncanny ability to invoke feelings in her she's never had before. Her terrifies her and captivates her all in the span of just one encounter, and something about the way he makes her heel sparks buried memories from a past she wishes could just stayed buried.
Sky struggles to keep him at a distance knowing he's nothing but trouble, but Holder insists on learning everything about her. After finally caving to his unwavering pursuits, Sky soon finds that Holder isn't at all who he's claiming to be. When the secrets he's been keeping are finally revealed, every single facet of Sky's life will change forever.
Both books in this series appear in this list because they were both amazing. Once again, Colleen destroyed me with this book, I was in tears reading it but I loved it nonetheless.
Losing Hope by Colleen Hoover
Summary:
In the follow-up to Colleen Hoover's #1 New York Times bestseller Hopeless, the charming and irresistable Dean Holder tells the passionate story that has melted thousands of hearts.
In Hopeless, Sky left no secret unearthed, no feeling unshared, and no memory forgotten, but Holder's past remains a mystery.
Still haunted by the little girl he let walk away, Holder has spent his entire life searching for her in an attemot to finally rid himself of the crushing guilt he has felt for years. But he could not have anticipated that the moment they reconnect, even greater remorse would overwhelm him...
Sometimes in life, if we wish to move forward, we must first dig deep into our past and make amends. In Losing Hope, bestselling author Colleen Hoover reveals what was going on inseide Holder's head during all those hopeless moments—and whether he can gain the peace he desperately needs.
This book is Hopeless told from Holder's point of view and I loved reading this. Getting to see key moments from Hopeless from Holder's perspective really changed the way you saw them and it gave me an excuse to fall more in love with Holder. What more could a girl want?
The Record of My Heart by Georgina Guthrie
Summary:
Daniel Grant desperately wants Aubrey Price, a woman he can't have–at least not for two long months. He could give up and walk away, but he won't. Following in his grandfather's footsteps, he wait.
And while he waits...he writes.
Through a series of journals and letters, The Record of my Heart traces Daniel's romantic contemplations, what he calls "the secret musing of a man tumbling headfirst in love..."
This book, these characters and Daniel Grant.
*swoon*
This book gives you the best of Daniel Grant. He has such a way with words and what happens in this novella just turned me into a pile of goo at the hands of one of my ultimate book boyfriends and weaves such a lovely, romatic read.
The Book Thief by Markus Zusak
Summary:
This is the tale of the Book Thief,
As narrated by Death.
And when Death tells a stroy,
You simply have to listen.
It's a small story really, about, amongst other things:
A Girl
An Accordionist
Some Fanatical Germans
A Jewish Fist Fighter
And Quite A Lot Of Thievery
I couldn't compile this list and not include The Book Thief. There will never be enough words for me to summarise how this book made me feel and adequately describe my love for it.
If I Stay by Gayle Forman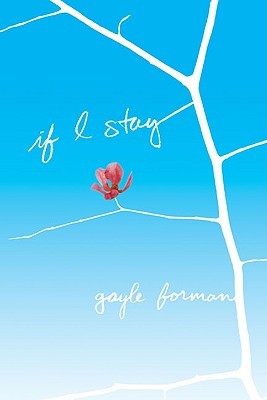 Summary:
Choices. Seventeen-year-old Mia is faced with some thought ones: Stay true to her first love–music–even if it means losing her boyfriend and leaving her family and friends behind?
Then one February morning Mia goes for a drive with her family, and in an instant, everything changes. Suddenly, all her choices are gone, except ones. And it's the only one that matters.
If I Stay is a heartachingly beautiful book about the power of love, the true meaning of family, and the choices we all make.
I came to this book late and it had been on my TBR list forever and when I finally read it I kicked myself for leaving it so long! This book broke my heart but I still enjoyed it.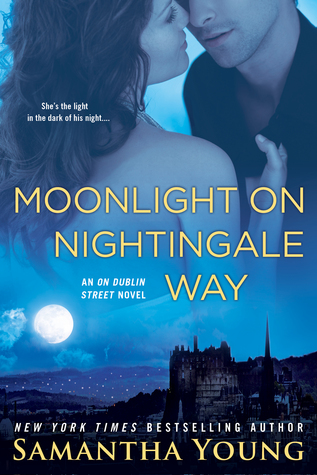 Logan from Echoes of Scotland Street is back with his own smoldering story, as the New York Times bestselling On Dublin Street series returns...
Logan spent two years paying for the mistakes he made. Now, he's ready to start over. He has a great apartment, a good jon, and plenty of women to distract him from his past. And one woman who is driving him to distraction.
Grace escaped her manipulative family by moving to a new city. Her new life, made to suit her own needs, is almost perfect. All she needs to do is find her Mr. Right–or at least figure out a way to ignore her irresistible yet annoying womanizer of a neighbor.
Grace is determined to have nothing to do with Logan until a life-changing surprise slowly begins turning the wild heartbreaker into exactly the strong, stable man she's been searching for. Only just when she begins to give into his charms, her own messy past threatens to derail everything they've worked to build...
Of course, Moonlight on Nightingale Way had to be in here. It was the last full-length book in one of my favourite series and I loved to read more of my favourite characters. Plus the epilogue brought my old favourites together.
November 9 by Colleen Hoover
Summary:
Fallon meets Ben, an aspiring novelist, the day before her scheduled cross-country move. Their untimely attraction leads them to spend Fallon's last day in L.A. together, and her eventful life becomes the creative inspiration Ben has always sought for his novel. Over time and amidst the various relationships and tribulations of their own separate lives, they continue to meet on the same date every year. Until one day Fallon becomes unsure if Ben has been telling her the truth or fabricating a perfect reality for the sake of the ultimate plot twist.
Okay, Colleen's third book to appear in here so I may be a slight fan...
November 9 is such an amazing concept for a book, we meet two people on the same day of the year for five years. This book saved Colleen for me, her other release of the year, Confess wasn't a hit for me but November 9 redeemed that for me and I couldn't put this book down. I just had to know what was going to happen.
Blood Kiss by J. R. Ward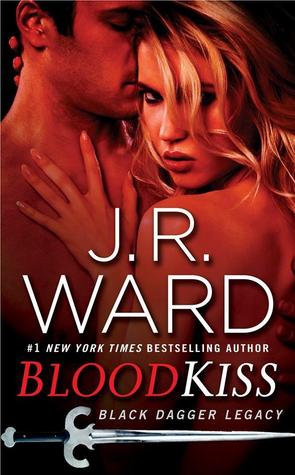 Summary:
The legacy of the Black Dagger Brotherhood continues in a spin-off series from the New York Times bestselling author.

Paradise, blooded daughter of the king's First Advisor, is ready to break free from the restrictive life of an aristocratic female. Her strategy? Join the Black Dagger Brotherhood's training center program and learn to fight for herself, think for herself…be herself. It's a good plan, until everything goes wrong. The schooling is unfathomably difficult, the other recruits feel more like enemies than allies, and it's very clear that the Brother in charge, Butch O'Neal, a.k.a. the Dhestroyer is having serious problems in his own life.

And that's before she falls in love with a fellow classmate. Craeg, a common civilian, is nothing her father would ever want for her, but everything she could ask for in a male. As an act of violence threatens to tear apart the entire program, and the erotic pull between them grows irresistible, Paradise is tested in ways she never anticipated—and left wondering whether she's strong enough to claim her own power…on the field, and off.
The Brotherhood is back and on form again. I used to love the BDB series but as time went on the series lost their sparkle as they became more about the side stories than the brothers.
This new series focuses on the training centre and has lots of the Brothers in there which I absolutely loved!
Sojourn by Cecilia London
Summary:
Haunted by her experience at The Fed, Caroline tries to create a new identity. A new present, a new future. She can't escape the memories that dog her when she least expects it, leaving her mired in a depression that she finds difficult to escape. Caroline needs to regain her physical and mental strength if she intends on surviving the journey to find the elusive rebellion. But that's easier said than done with the ghosts of the past constantly whispering in her ear.
The road is long and dangerous, and there are no guarantees. She and her companions have no idea what they will find when they arrive at their destination. And what they finally discover may change everything.
Part Three of a Six Part Saga.Sojourn (approximately 89,000 words) is not a standalone and must be read after the first two books in the series. Ends in a cliffhanger. For readers 18+. This book contains adult situations including explicit sex and violence.
This is the third book in a six book series which I started reading earlier this year after Cecilia got in contact with me and I am so glad she did!
I can honestly say, I have never read a series like this. As I read the series it just gets better and this is my favourite book thus far. It's a transitional book and I loved reading Caroline getting back to where she needed to be.