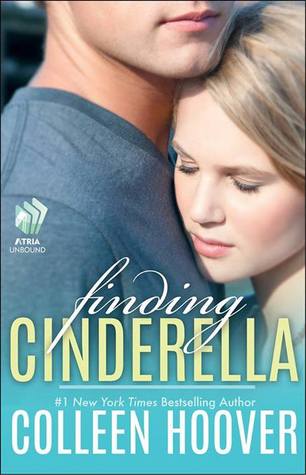 Rating:
Publisher: Atria Books
Pages: 90
Summary:
This novella is a companion novel to the Hopeless series, but can be read as a standalone.
A chance encounter in the dark leads eighteen-year-old Daniel and the girl who stumbles across him to profess their love for each other. But this love comes with conditions: they agree it will only last one hour and it will only be make-believe.
When their hour is up and the girl rushes off like Cinderella, Daniel tries to convince himself that what happened between them only seemed perfect because they were pretending it was perfect. Moments like that with girls like her don't happen outside of fairytales.
One year and one bad relationship later, his disbelief in insta-love is stripped away the day he meets Six: a girl with a strange name and an even stranger personality. Daniel soon realizes the way he pretended to feel about Cinderella and the way he really feels about Six may not be so different after all. Especially when the two loves of his life end up being one in the same.
Unfortunately for Daniel, finding Cinderella doesn't guarantee their happily ever after…it only further threatens it.
If you've read Losing Hope and Hopeless you'll know all about Holder and Sky as well as their best friends, Daniel and Six. Well, this is the story of Six and Daniel.
When the book opens, Daniel has accidentally been assigned a free period which, being the teenaged boy he is, he uses to hide in the maintenance closet to sleep. It's all going well and he is enjoying his daily nap until a girl stumbles across him in there.
It's pitch black, so neither can see each other but they interact well and they allow themselves an hour of pretending to be in love. Things progress and they end up sleeping together. If you remember Daniel's habits, you know he gives everyone he knows nicknames and he promptly names his mystery girl Cinderella.
Following Cinderella's departure (before which they decide not to switch the light on so neither of them know who the other is) Daniel resumes life and the book jumps forward a year. Daniel is in a new, doomed relationship, but he can't stop thinking about Cinderella.
One night he walks into Sky's bedroom (through her window, of course) and meets Six, Sky's best friend who has returned from her year abroad in Italy. As soon as he sees her, he knows that there's something special about her and he's not the only one to notice. Holder clocks the attraction straight away and bans him from dating Six. Which I loved, Holder is just all kinds of amazing, and it brought back memories of why I loved him so much in the other two books in the series: he's a fierce protector. Not that that his words stop Daniel.
He spends some time with Six and they just click and decide it would be fun to keep their relationship a secret to mess with Holder but, it's not easy, and Daniel finds it especially hard to do. Some of the funniest parts in this book are when he's with his friends and can't interact with Six the way he wants to.
Now, we all know how I have a habit of gaining book boyfriends and I officially have another one: Daniel Wesley. He isn't Holder but he's pretty damn close. There's a scene where they're all having dinner together and Daniel can't cope and neither can Six. She dismisses herself to go fetch presents and get Daniel's help but of course it's rubbish and she just wants some time with him what then follows is incredibly sweet. Daniel spills all to their friends in the sweetest way possible and I just loved that. The boy, despite his swearing and constant joking, is a sweetheart.
The way he is with Six is lovely to read and their relationship is great fun, they constantly wind one another up in a loving, caring way and when their world's implode I hated seeing him and Six so hurt. I just wanted them back together because if there were ever two book characters made for each other, it would be these two. They are just meant to be together and they fit so well. It's like Holder said: they're strange together but it just works!
Oh and just so you know if you do read this, there is an epilogue and it's available on WattPad
here
.
I guess there's one thing that's stopping this book being a five for me and if you want to read the book without spoilers stop reading now because I am about to give away crucial plot points!
.
.
.
.
.
I think from Daniel's reaction when he first meets Six that it's obvious she's Cinderella and I think he would have known that especially after they kiss. When they were in the closet together he has no other distractions and remembers the way she felt, smelt and kissed. I just think even after a year he would recognise her since he seemed to remember it so well.
In the same way, I think Six would have known he was the guy because once the fact she had his baby is revealed she says the baby had his eyes, surely she would have put two and two together when she saw him for the first time? I don't know, those two things didn't add up for me and that stopped this being a 5-star read for me but other than that I thoroughly enjoyed read this novella and I got more of Holder which is always a huge plus!