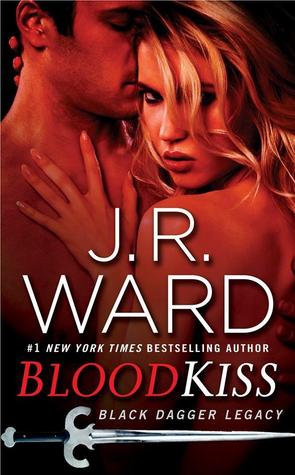 Rating:
Publisher: Signet
Pages: 397
Summary:
The legacy of the Black Dagger Brotherhood continues in a spin-off series from the New York Times bestselling author.

Paradise, blooded daughter of the king's First Advisor, is ready to break free from the restrictive life of an aristocratic female. Her strategy? Join the Black Dagger Brotherhood's training center program and learn to fight for herself, think for herself…be herself. It's a good plan, until everything goes wrong. The schooling is unfathomably difficult, the other recruits feel more like enemies than allies, and it's very clear that the Brother in charge, Butch O'Neal, a.k.a. the Dhestroyer is having serious problems in his own life.

And that's before she falls in love with a fellow classmate. Craeg, a common civilian, is nothing her father would ever want for her, but everything she could ask for in a male. As an act of violence threatens to tear apart the entire program, and the erotic pull between them grows irresistible, Paradise is tested in ways she never anticipated—and left wondering whether she's strong enough to claim her own power…on the field, and off.
The Brothers are back and better than ever....
So, a few years ago (before I started this blog), I binge read the BDB books on the recommendation of a friend and I loved them. I read all of the published books in the series at the time back to back and I just couldn't get enough. I bought each new installment as it was published but as the series continued I just started to fall out of love with it. The series became too much about the side stories and not enough of the Brothers who I had come to love. It got to the point where I haven't even read the last installment (or bought it).
Then I heard about the new series, one focussing on the training centre and more on the Brothers, going back to the roots of what I fell in love with in this series, the Brothers. The spin off focusses on the training centre for new recruits for the Brotherhood and the Brothers teaching them what they need to know to become full Brotherhood members. As soon as I read about the new series I knew I had to give it a go because I missed these guys far too much!
Did it bring the Brothers back into my life? Oh yes it did! In the best way possible. All the Brothers are there, some more so than others and all their shellans too, but we hear from all of them or they're mentioned in the dialogue. And Lassiter! I forgot how much I love Lassiter. He is so much fun to read and had my chuckling along as he did what he does best: wound the Brothers up.
Having all the Brothers back meant getting to see them winding one another up in the way only they can and we got to see the best of that at Last Meal. Seeing them all together again was great to read!
One of my favourite parts of this book is the girl's night. All of the shellans of the Brothers decide to have their own Last Meal and a girl's night watching a film and not any film, a film about strippers, Magic Mike XXL. If you've read these books, you can imagine how this went down with the Brothers... Butch walks in and all the Brothers are throughly down in the dumps all because their shellans are having a girl's night. What follows was hilarious as they talk about the film and then proceed to get flat out drunk.
I should shut up about the Brothers really and talk about the new parts of the story because this one isn't all about the Brothers....
In this book, we get an insight into the training the new recruits go through, and it's so brutal! From the get go they're put through their paces and it was painful to read but you know why the Brothers have to do it, they need the best of the best with them.
One recruit, Paradise (who we've met in previous BDB books), is very different from the others, because she is a member of the Glymera (the aristocrats of the vampires for those who haven't read any of the books in the BDB universe), she fights tooth and nail just to get in the programme and isn't prepared to give up. This makes you love her from the start and you really root for her, you want her to succeed and get what she wants but there's one snag: she's insanely attracted to one of her fellow trainees, Craeg, who is so very far from who she is expected to mate with.
And the attraction isn't one way, Craeg is as attracted to Paradise too and but, unlike Paradise, he struggles with their attraction because he wants to focus on the programme so he can get his revenge but, of course, that doesn't work out and what follows is an awesome read.
Craeg's trying to fight the pull but, he can't, and Paradise is trying to tempt him as much as she can because she knows they should be together despite the expectations she has to live up to and the problems their relationship could cause as the daughter of a Founding Family. I loved reading them get closer and I was rooting for them the whole way.
This book isn't just about Paradise and Craeg, it also features a storyline with Butch and Marissa who are having issues in their relationship and are trying to fix things while juggling their work. It wasn't the sort of storyline I was expecting in this book but it was well written and interesting to read, it just shows you, it's not just humans who have relationship problems!
Overall, I loved this book. It took me back to the old days of this series and everything I loved about it. All the Brothers back together making me laugh like the old days! Our Brothers are back and on great form and it was great meeting new characters who were a breathe of fresh area. I cannot wait for the next installment! One thing's for sure: I'm back in love with the Brothers.