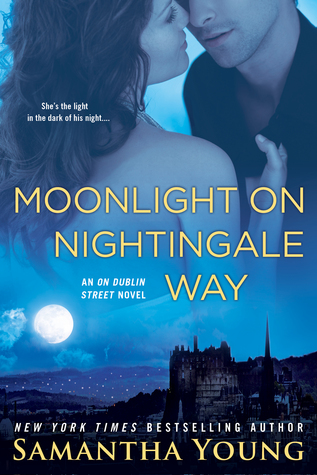 Rating:
Publisher: NAL
Pages: 352
Summary:
Logan from Echoes of Scotland Street is back with his own smoldering story, as the New York Times bestselling On Dublin Street series returns...
Logan spent two years paying for the mistakes he made. Now, he's ready to start over. He has a great apartment, a good jon, and plenty of women to distract him from his past. And one woman who is driving him to distraction.
Grace escaped her manipulative family by moving to a new city. Her new life, made to suit her own needs, is almost perfect. All she needs to do is find her Mr. Right–or at least figure out a way to ignore her irresistible yet annoying womanizer of a neighbor.
Grace is determined to have nothing to do with Logan until a life-changing surprise slowly begins turning the wild heartbreaker into exactly the strong, stable man she's been searching for. Only just when she begins to give into his charms, her own messy past threatens to derail everything they've worked to build...
As those of you who have read my reviews for a while will know, I am slightly in love with the On Dublin Street series by Samantha Young and I was lucky enough to meet Samantha in April and The Great British Book Affair. The book nerd in me was very happy that day! I have read the entire series and when I read that this book would be the last it was bittersweet for me. But boy did Samantha give it the send off it deserved!
Before you carry on, this review does contain spoilers...
This book concentrates on a man we met in the last book, Logan MacLeod who you'll remember was Shannon's big brother, and Grace Farquhar, a young woman who is starting over in Edinburgh after escaping her vile and manipulative family.
When they first meet, they rub each other up completely the wrong way but things start to get civil and then a massive bombshell lands at their feet, Logan's fifteen-year-old daughter, who he had no knowledge of, comes into his life.
Grace decides to help and take them both under her wing and what follows is a beautiful story of a family finding itself. It was obvious to me from the get-go that these two were meant to be Grace's family and I loved watching Grace by there for them. She was such a natural and I loved that!
Of course, true love never does run smooth, and both Grace and Logan have demons to fight. In the beginning we know from the previous book that Logan has been in prison for standing up to the man who dared to hurt his sister but Grace has been through some equally screwed up stuff and my heart broke for her. You can see how much her past has hurt her and just want to hug her. I spent this book thinking most of it would be spent on Logan but Grace's real family come back and her father tries to mess with her. I hated seeing the seed of doubt he places in her mind and Logan's and her reaction is testament to how far they have both come. Towards the end of the book, I was wholeheartedly behind Grace as she confronted her father and whooped her on as I read that.
One of my favourite things about this book was watching Logan adjust to being a father. Even before paternity is proven (even though it's obvious Maia is his daughter) he does all he can with Grace's help to make sure Maia is safe and happy. I loved that! It really shows you what an amazing man Logan is. He truly loves Maia and is there for her completely especially when paternity is proven and she can move in with him. There are some really cute moments too when he's not sure what to do and turns to Grace which were so cute!
Oh and then there's the sex! The mind-blowing sex! If there's one thing Samantha can do well it's not just love but sex! The scenes between Logan and Grace were so hawt!
The epilogue to this book was perfect as well. During the book all the gang feature and they are amazing as always and then at the end we got to see a glimpse into their lives as they stand at the end of this book and the series and I loved that so much!! They're just so perfect and I loved seeing them one last time.
For me, this book was an amazingly awesome end to an amazingly awesome series. I can't put into to words how much I loved this book and the series as a whole. I will miss these guys so much and I want to thank Samantha for giving us such an amazing set of loving characters and an amazing series.