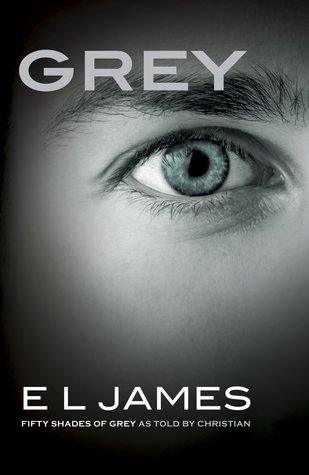 Rating:
Publisher: Vintage
Pages: 576
Summary:
Christian Grey exercises control in all things; his world is neat, disciplined, and utterly empty–until the day that Anatasia Steele falls into his office, in a tangle of shapely limbs and tumbling brown hair. He tries to forget her, but instead is swept up in a storm of emotion he cannot comprehend and cannot resist. Unlike any woman he has known before, shy, unworldly Ana seems to see right through –past the business prodigy and the penthouse lifestyle to Christian's cold, wounded heart.
Will being with Ana dispel the horrors of his childhood that haunt Christian every night? Or will his dark sexual desires, his compulsion to control, and the self-loathing that fills his soul drive his girl away and destroy the fragile hope she offers him?
I have been and always will be a great supporter of E L James. I love Ana and Christian and I have always wanted to know what was going through Christian's head when he's with Ana and what he is thinking in the pivotal scenes in the book. When I heard Grey was going to be published I hit pre-order and waited for it to arrive and I am so happy it has!
This book gives us a whole other side to Christian, you get to see him with other people in his life, especially his parents and siblings. It makes him seem more human and you can tell how much they mean to him. Especially his sister.
One of my favourite things about the books were the emails and seeing them from Christian's POV made them more enjoyable especially when Ana is telling him how it is in words and his reactions. There are points that made me laugh out loud and a point where I found Christian incredibly cute when Ana signs off an email with a kiss. Never would I thought a kiss could be received in such a way and it genuinely made me smile. Like I said, Christian seems more human in this book.
We learn a lot more about Christian's life pre-adoption and those scenes, which we read in the form of nightmares, broke my heart. I just wanted to reach into the book and hug him (even though he would have hated that). It really gives us an insight into why he is how he is. He had harrowing experiences in his infant years and that has shaped him in lots of ways.
And of course, let's not forget the sex, I enjoyed reading the sex scenes from Christian's POV they were the scenes I really wanted to experience from his POV and they didn't disappoint, again they open a whole other side to him. I mostly enjoyed the first sex scene between them, it was something so different for him and I really needed to know what he was thinking.
All in all, I enjoyed this book and if the next one in the series is ever published in his POV I will definitely be reading it.