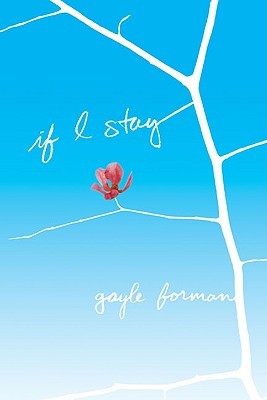 Rating:
Publisher: Dutton Books
Pages: 201
Summary:
Choices. Seventeen-year-old Mia is faced with some thought ones: Stay true to her first love–music–even if it means losing her boyfriend and leaving her family and friends behind?
Then one February morning Mia goes for a drive with her family, and in an instant, everything changes. Suddenly, all her choices are gone, except ones. And it's the only one that matters.
If I Stay is a heartachingly beautiful book about the power of love, the true meaning of family, and the choices we all make.
If I Stay has been on my TBR list for what feels like forever and I finally decided to read it. What an amazing book and I'm so glad I finally read it.
When I first started I thought I knew where it was going but I was so, so wrong and glad I was. I don't think I've ever read something like this and it was such an interesting premise and idea for a book. We spend 24 hours with Mia whose whole life has been ripped apart and she now has to decide if she wants to keep going. If she wants to stay or if she wants to die and leave behind all she's ever known.
At the start of the book, Mia is spending time with her family who go out for a drive and then her life changes forever. Immediately after the crash she realises that she is watching herself fight for her life and she's the only one who can decide if she leaves the world or stays. She watches her family and friends rally around her and you really feel the emotional turmoil not just Mia, but all her family and friends, are going through.
This book was an emotional rollercoaster and had me in tears by the end as Mia heard Kim, her best friend, and Adam, her boyfriend, speaking to her. I was sat on the train on my way home from a friend and broke down in tears. Their words were so heartfelt and you could just tell how much Mia meant to them both.
If I Stay was such a different and interesting read. Like I said before, I have never read like this before and I really, really loved it. I didn't want to stop reading and I had to know what would happen to Mia!
I didn't realise that the book has a sequel and I will definitely be reading that soon.
I don't want to say too much because I don't want to spoil this amazing book, but I will say one thing: you have to read this book.