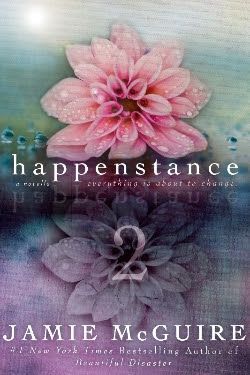 Rating:
Pages: 106
Summary:
Erin Easter was now Erin Alderman, because Erin Alderman was dead.
In the second installment of this USA Today bestselling series, follow protagonist Erin, a high school senior in tiny Blackwell, Oklahoma. After a terrible accident leaves two classmates dead, Erin learns that she was switched at birth. Shortly after, she moves into the home of her true parents, Sam and Julianne Alderman, transforming Erin over night from pariah of Blackwell High School, to the only child of one of the most affluent couples in town.
Also being pursued by her childhood crush, Weston Gates, the dream she once had is now reality. But when Erin stumbles upon secrets that gives her the answers she's been searching for, she also finds a truth she never wanted to know.
Happenstance 2 picks up where Happenstance dropped off. Erin is living with her new parents now she has discovered her true paternity.
When I finished Happenstance I really wanted to see Erin readjust to her new life where she lives with parents who love her and want to do anything for her. It was great to read and the battle Erin has really comes across, she is so used to caring for herself that having someone care for her takes a while to get used to but she slowly gets there. It was great to see her open to them and she has a really sweet way of referring to her father as "my Sam" which I really, really loved. It showed that she does really care for them and love them already.
I thought this book would be a fun read without getting too heavy and, for the most part, it is but it has its own twists and turns. There are two twists in this book, one I thought was coming involving Weston, and another that I
NEVER
saw coming but helps to explain why the two Erin's went from loving Easter to hating her overnight. I won't say much more as I don't want to ruin the book for those who haven't read it, but they are great twists and make the reader want to keep reading and know what happens.
All in all, this is a fun, fast read and anyone who is a fan of Jamie will love it and I can't wait for the final installment in the New Year.