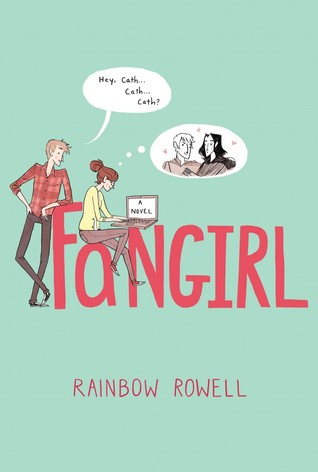 Rating:
Publisher: St Martin's Press
Pages: 480
Summary:
From the author of the
New York Times
bestseller
Eleanor & Park
.
A coming-of-age tale of fan fiction, family and first love.
Cath is a Simon Snow fan.
Okay, the whole world is a Simon Snow fan...
But for Cath, being a fan is her life—and she's really good at it. She and her twin sister, Wren, ensconced themselves in the Simon Snow series when they were just kids; it's what got them through their mother leaving.
Reading. Rereading. Hanging out in Simon Snow forums, writing Simon Snow fan fiction, dressing up like the characters for every movie premiere.
Cath's sister has mostly grown away from fandom, but Cath can't let go. She doesn't want to.
Now that they're going to college, Wren has told Cath she doesn't want to be roommates. Cath is on her own, completely outside of her comfort zone. She's got a surly roommate with a charming, always-around boyfriend, a fiction-writing professor who thinks fan fiction is the end of the civilized world, a handsome classmate who only wants to talk about words... And she can't stop worrying about her dad, who's loving and fragile and has never really been alone.
For Cath, the question is: Can she do this?
Can she make it without Wren holding her hand? Is she ready to start living her own life? Writing her own stories?
And does she even want to move on if it means leaving Simon Snow behind?
So, Fangirl. In a word, I loved it. You see, I am a fangirl, I have fangirled over many things in my life and I still do. I was also a fanfic writer for many years. I have read hundreds of fics, reviewed and waited and agonised over updates arriving in my inbox. I have agonised over my own fics, going crazy when I had writer 'sblock and having to readjust to not being able to write and update as much as I liked to when life changed and I didn't have as much time to dedicate to my version of my favourite story. So I related to this book on so many levels, never before have I related to a book's lead character so well.
The start of my university life was very similar to Cath's, I have been through what she went through in this book on some level. I think that's why I loved her so much. I could totally relate to what she was going through and how she lived with this change in her life. I had been there, done that and got the t-shirt and I was rooting for her to come out the other end just like I did.
My similarities to Cath weren't the only thing that made me love this book. I loved all the other characters. Especially Levi. He was so relentless and happy, the complete opposite to Cath. He was always there for Cath even when she didn't know she would need him. He always went out the way to help her which I loved. He was just the cutest particularly during the end of the book, he put Cath at ease so much and I really think he was one of the main reason she managed to stay on at college and keep going. Levi gave her the strength to do that and you could practically she his love for her every time he spoke to her. He totally idolised her and that's just what she needed.
Reagan, her roommate helped a lot too, I loved their interactions together and when Levi and Cath got together? All the ground rules were great and I loved how Reagan broke them herself from time to time. I wasn't sure what to think of her at the start, but I came to love her.
And then there's Wren. I'll admit Wren pissed me off. Big time. I really didn't like her attitude towards Cath in the beginning of the book, the way it seemed like she just forgot her sister existed, but she managed to redeem herself in the end. It took a short, sharp shock, but they were reunited and the sister's they were meant to be and I loved that Wren had still been reading the fic. There was still a tiny part of her that was clinging to that part of her pre college life as much as it seemed on the outside that she was read to move on.
I'm not even going to go near Nick. He just annoyed me, he had so much promise and I was rooting for him but then he turned out to be a douche. I really did think Cath would end up with him, but I was so happy he didn't and when I saw the final passage in the book? I was
SO
glad
she got that accolade. TAKE THAT NICK!
One of my favourite scenes at the end of the book is when Nick shows up and everyone in Cath's life is there and I could just picture all their faces, they are all ready to protect Cath and will do anything to keep her safe and happy. I loved that. Cath went from feeling like she had no one to having this small group of people who loved her completely and would do anything for her. Something I don't think she ever saw coming.
So, yea, I loved this book, it really is the best coming of age book I have read for a long while. I loved that it took all the best bits of being involved in an online community and mentioned them because that is what those communities are like, you all look out for each other, and you do feel like these people are your friends even though you have never met them and in some cases, never will but it is a real, solid friendship. Some of the best friends I have today I met whilst I was in that community.
If you're prone to fangirl way then this book is for you, even if you're not it is still an amazing book.